Monday, 17 July 2023 04:00 –      – 388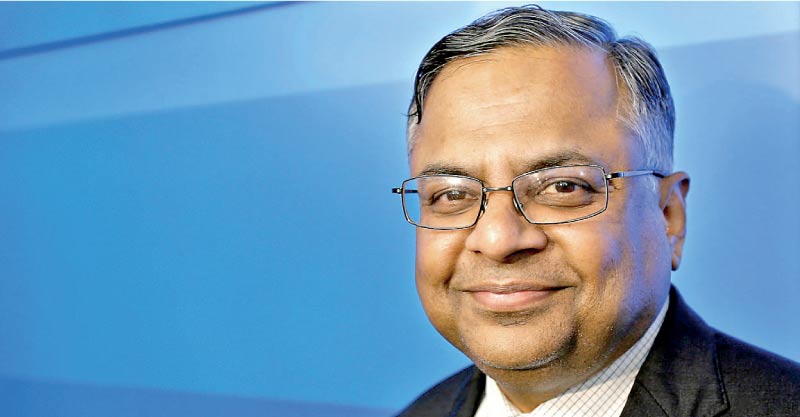 Tata Sons Chairman Natarajan Chandrasekaran
---
 Tata Sons Chairman Natarajan Chandrasekaran in historic visit on invitation from President Ranil Wickremesinghe 
Chandrasekaran is highest Tata official to make it to Sri Lanka since Ratan Tata visited the country in 2003 on the invitation of Wickremesinghe when he was the Prime Minister 
One-day visit to explore investment opportunities in power and energy, electric vehicles and fresh ventures in leisure sector
Sunshine Holdings is Tata's longstanding partner in SL
---
By Nisthar Cassim
---
India's largest business group Tata Sons Chairman Natarajan Chandrasekaran is in Sri Lanka on an invitation from President Ranil Wickremesinghe to explore new investment opportunities.
Tata Sons is the holding company and promoter of over 100 Tata operating companies with aggregate revenues of over $ 150 billion, nearly 100,000 employees and market capitalisation of $ 288 billion. Its business empire encompasses IT and digital, steel, auto, consumer and retail, infrastructure, financial services, aerospace and defence, tourism and travel, telecom and media, trading and investments, electronics manufacturing.
Sources told the Daily FT that  Chandrasekaran who arrived yesterday evening, will discuss investments in the power and energy sector, electric vehicles and new opportunities in the leisure sector among other areas.
As a precursor to Chairman›s discussions, a fortnight ago a top Tata delegation including Tata Power CEO and Managing Director Dr. Praveer Sinha, Tata Sons President Ankur Verma, and those responsible for passenger vehicles and  international business visited Sri Lanka and met with Board of Investment officials among others.
During his whistle-stop tour, Tata Chairman will call on President Wickremesinghe, Indian High Commissioner Gopal Bagley, several Ministers as well as the BOI.
Chandrasekaran will be highest Tata official to make it to Sri Lanka since Ratan Tata visited the country in 2003 on the invitation of Wickremesinghe when he was the Prime Minister.
Ratan Tata's visit coincided with the launch of Tata Communications Lanka Ltd, in which Tata's longest partner in Sri Lanka, Sunshine Holdings PLC owns 10% stake. Tata also has interests in Sri Lanka's plantation sector via Sunshine Holdings Group.
Tata first entered the Sri Lanka leisure sector via Indian Hotels Company Ltd., (IHCL), which has invested in three hotels –Taj Samudra, Colombo, Taj Bentota Resort and Spa, Bentota and Vivanta Airport Garden, Katunayake.
Tata also has a strong partnership with DIMO for his brand of vehicles.
Around 65% stake of Tata Sons is held by philanthropic trusts (Tata Trusts), which support education, health, livelihood generation, art and culture.
Chandrasekaran was chief operating officer (COO) and executive director of Tata Consultancy Services (TCS), where in 2009, he became chief executive officer (CEO). He was also the chairman of Tata Motors and Tata Global Beverages (TGB). He became the first non-Parsi and professional executive to head the Tata Group. He has assumed the chair of B20 India and will lead the business agenda during India›s G20 presidency.
Chandrasekaran also heads the Maharashtra's Economic Advisory Committee which last week proposed a blueprint to make it a $ 1 trillion economy by 2028. The report outlines policy measures and other initiatives that have to be taken across 8 areas including manufacturing, services, energy/renewables and sustainability, infra real estate and logistics, ease of doing business, MSME enablement, skill development and agriculture and allied services.