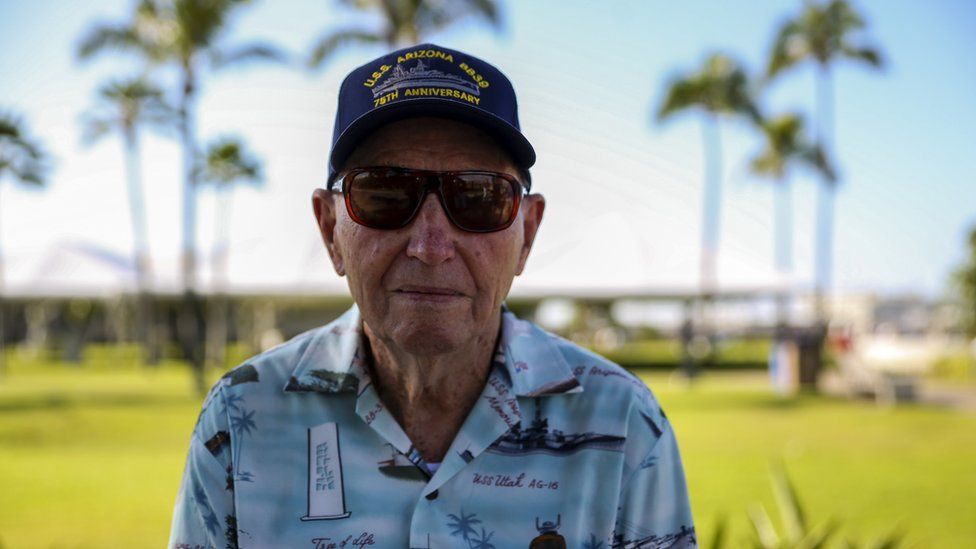 One of the last two survivors from a US battleship sunk during Japan's 1941 attack on Pearl Harbor has died at the age of 102.
Utah resident Howard Kenton Potts was a 20-year-old crane operator taking supplies to the USS Arizona when Japan attacked on 7 December, 1941.
A total of 1,177 sailors on the ship were killed, accounting for nearly half of US casualties during the attack.
The United States joined the World War Two after the attack.
Mr Potts – who went by the name Ken – died at a home in Utah that he shared with his wife of 66 years, according to Randy Stratton, the son of Pott's wartime friend and shipmate.
Mr Stratton was quoted by the Associated Press as saying that Mr Potts had "all his marbles" but "knew that his body was kind of shutting down on him" in the days before his death.
"He was just hoping that he could get better but [it] turned out not," Mr Stratton added.
A native of Illinois, Mr Potts first enlisted in the US Navy in 1939.
On the morning of 7 December, 1941, he was taking supplies to the USS Arizona when Japanese aircraft began striking US naval facilities in Pearl Harbor.
Once the attack started, Mr Potts used his boat to rescue sailors that had been thrown into the water and deliver them to a nearby island.
He was still in the harbour when the Arizona exploded, sinking the ship just nine minutes after it was first struck.
"I still see and feel it… most times as a nightmare," Mr Potts later told the National Guard in a 2021 interview. "The whole place was on fire. The water was burning because the oil was on fire."
Mr Potts was later tasked with retrieving dead bodies from the Arizona.
"That," he told the National Guard. "Was a hell of a job."
More than 900 sailors remain entombed inside the Arizona, which remains in the spot where it sank in Pearl Harbor.
The only other remaining survivor of the Arizona, California resident Lou Conter, is 101 years old.
The US declared war on Japan the day after the Pearl Harbor attack. Germany and Italy declared war on the US on 11 December, prompting the US government to declare war on them.