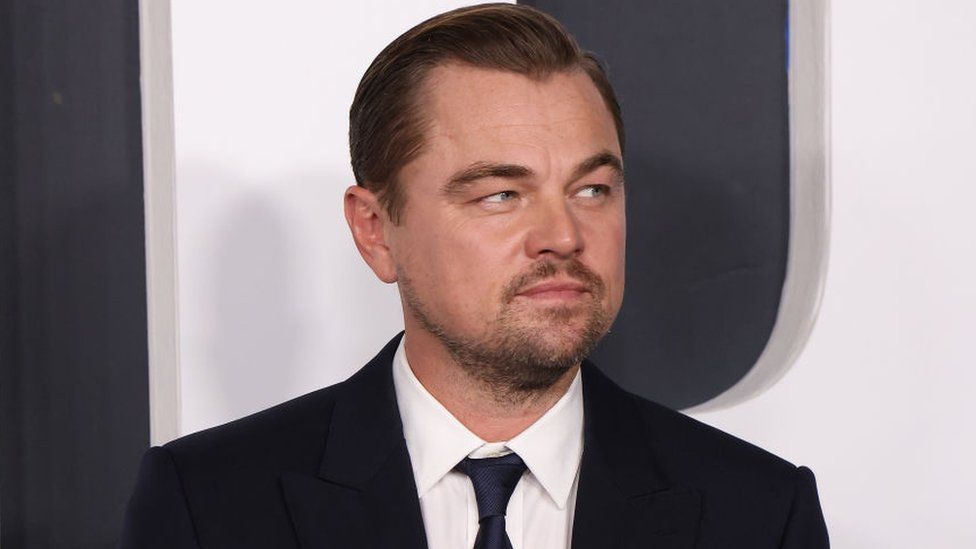 Hollywood star Leonardo DiCaprio has testified in the trial of ex-Fugees rapper Pras Michel, who is accused of accepting money from a fugitive tycoon to influence US politicians.
Mr Michel, 50, allegedly received more than $100m (£80m) from Malaysian billionaire Jho Low.
He denies a slew of charges, including conspiracy and witness tampering.
Mr DiCaprio, 48, who is not accused of wrongdoing in the case, was asked to testify about his links to Mr Low.
Mr Low is alleged to have stolen billions from Malaysia's sovereign wealth fund in the 1MDB scheme, the biggest embezzlement case in history.
According to federal prosecutors, Mr Michel was being paid to bring "secret, illegal foreign influence to bear" on US politics.
Mr Michel is accused of making illegal contributions to Barack Obama's 2012 US presidential campaign, using an illegal network of third parties paid with foreign funds.
Prosecutors believe Mr Low also wanted to use Mr Michel to lobby Trump administration officials to abandon their investigation into Mr Low's alleged role in the 1MDB scheme.
Mr Michel and Mr Low are both facing charges in the case, but only Mr Michel is appearing in court. Mr Low is currently at large, and believed to be in China.
'A multitude of lavish parties'
Prosecutors say the financier used his vast resources to curry favour with celebrities, including Mr DiCaprio and model Miranda Kerr.
Mr Low's parties also drew the likes of Alicia Keys, Paris Hilton and Britney Spears. Spears once jumped out of a cake to wish Mr Low a happy birthday.
In the Washington DC court on Monday, a soft-spoken, bearded Mr DiCaprio testified about his financial ties with Mr Low.
Mr DiCaprio – who described himself simply as "an actor" – told jurors he first met Mr Low at a party in Las Vegas in 2010.
In subsequent years, he attended "a multitude of lavish parties" on yachts and nightclubs at Mr Low's invitation, alongside other celebrities, actors and musicians.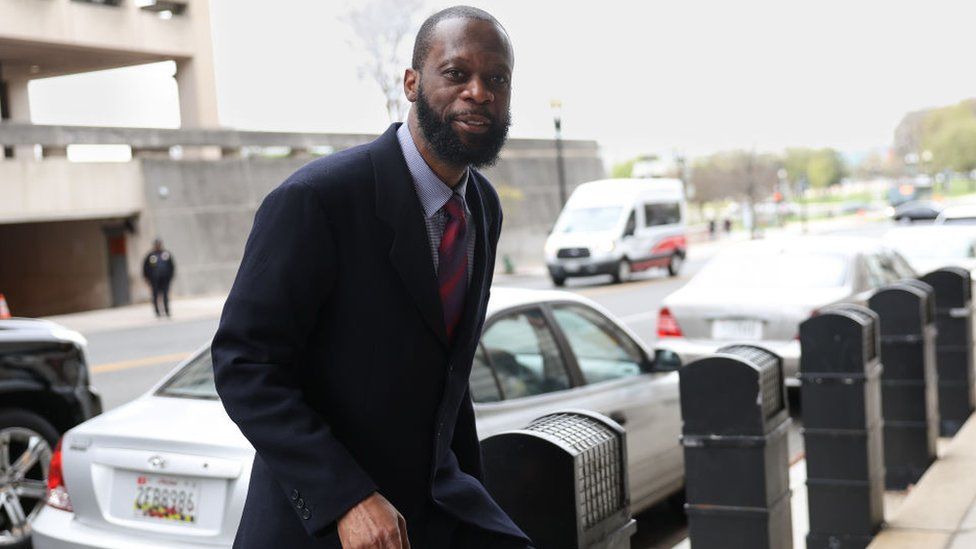 On one occasion, Mr DiCaprio attended a New Year's Eve party in Australia with Mr Low, after which partygoers were flown to the US in an effort to celebrate New Year's twice.
The actor's 2013 film Wolf of Wall Street – about a notorious fraudster – was partially funded by a firm tied to Mr Low.
"I understood him to be a huge businessman with many connections," Mr DiCaprio said in court. "He was a prodigy in the business world and ultra-successful."
US District Judge Colleen Kollar-Kotelly more than once asked the actor to "keep his voice up" so he could be heard by the jury and court reporter.
Mr Michel looked at the actor and waved when Mr DiCaprio was asked to identify him in court.
Bloomberg previously reported that Mr Low was "especially generous" with Mr DiCaprio and donated a $3.2m work of art by Picasso to his charity, in addition to a $9.2m piece from Jean-Michel Basquiat.
Mr DiCaprio reportedly later turned those items and others received from Mr Low over to authorities.
On Monday, the actor said that Mr Low also actively participated in auctions held by Mr DiCaprio in St Tropez "to bring in funds" for his environmentally focused foundation.
Later in their relationship, Mr DiCaprio said the two men began discussing US politics, with Mr Low expressing an interest in making a "significant contribution" of between $20m and $30m to the Democratic party ahead of the 2012 presidential election.
"I basically said, 'wow, that's a lot of money'," Mr DiCaprio said. Authorities believe those funds were embezzled from 1MDB.
Mr DiCaprio did not accuse Mr Michel of wrongdoing in his testimony.
He said that he first met Mr Michel in the 1990s following a Fugees concert.
He added that Mr Michel might have also attended a Thanksgiving party at his home, although "memory does not serve" and he could not say for sure.
In 2019 Mr DiCaprio reportedly testified before a grand jury in Washington DC as part of the justice department's investigation into the 1MDB scheme.
Mr DiCaprio told jurors that he lost contact with Mr Low around 2015 after being informed that he was under investigation for his financial dealings.
The Oscar-winner may not be the only celebrity to testify in Pras Michel's trial.
During jury selection, attorneys named actors including Jim Carrey, Jamie Foxx and Mark Wahlberg as possible witnesses, in addition to director Martin Scorsese, according to CNN.
The sprawling case could also see testimony from former high-level US government officials and political insiders, including Donald Trump's former chief strategist Steve Bannon and Rudy Giuliani, former mayor of New York and previously a lawyer for Mr Trump.