As UNP appoints committees to revive party at grassroots level; broader alliance planned with like-minded parties and groups
Lanza's new party on a mission to win support for Wickremesinghe among SLPP and 'independent' MPs
Govt. picks IFC to fast-track restructuring of state-owned enterprises; four-tier fee structure agreed upon
Aviation Minister presents case for SriLankan Airlines' privatisation
By Our Political Editor
For most parliamentarians, the prospects of any election at year-end have remained a nightmare. They are not ready, nor are the parties to which they belong though the focus has remained on a presidential election.  This was after President Ranil Wickremesinghe mulled over the issue months earlier.
He sounded out select party leaders over what they thought of a November presidential poll. This was after effecting amendments to the Constitution since the President, who is elected by Parliament, is not empowered to call a poll.
It is now increasingly clear that such an event will not take place this year. That, however, does not mean attention to an election has been altogether dropped.
Behind-the-scenes activity, particularly those initiated by President Wickremesinghe, still retains the focus on a presidential poll. Of course, the aim is to hold it next year. One step is a move to strengthen the now virtually defunct United National Party (UNP). With arrangements for an altogether new Constitution for the party, its annual convention is now set for January 10 next year. Different committees have been named to activate the party at the grassroots level. Key players in these committees include, among others, deputy leader Ruwan Wijewardene, Sagala Ratnayake, General Secretary Palitha Range Bandara, and Colombo North balamandalaya leader Ravi Karunanayake. The party appears set to form an alliance with like-minded groups in view of the short time available to emerge as a single entity.
A grouping that will be a likely partner emerged this week. That is the opening of a political party office at 118 Lake Drive, Colombo. The name is yet to be decided upon. The man behind the move is Negombo district parliamentarian Nimal Lanza, who has been working from the Presidential Secretariat. His task has been to win over for President Wickremesinghe parliamentarians, both members of the Sri Lanka Podujana Peramuna (SLPP) and those who are functioning as "independents" and have distanced themselves from the SLPP.  One former minister who was earlier in the SLPP has been earmarked to be the leader. Lanza, a one-time confidant of SLPP founder Basil Rajapaksa, has been conducting private meetings to get them to join his group. He has said there were 40 MPs supporting him and he hopes to raise the number to 60. During his dialogue, Lanza told a confidant this week, that there was reluctance on the part of some members to join the UNP or contest the elections on the UNP ticket. He noted that such people could join his grouping. In turn, they would thus be able to have a tie-up. Lanza briefed President Wickremesinghe, the UNP leader, on the recent developments just this week.
One of the areas where Lanza has been making gains, besides his move to woo parliamentarians, is a dialogue with members of the now-defunct local councils. It comes at a time when an influential section of the SLPP led by Basil Rajapaksa and backed by his confidant and General Secretary Sagara Kariyawasam, is frustrated over their inability to muster wider support. This is said to be the main reason why a close Basil Rajapaksa confidant and parliamentarian Jayantha Ketagoda initiated a private member's motion to empower the Minister of Local Government to re-activate the defunct councils. Nevertheless, Attorney General Sanjay Rajaratnam, who appeared for the state in fundamental rights cases in the Supreme Court argued that such a move would be unconstitutional. This small but influential section of the SLPP is worried that it would lose the support of the grassroots level of the party with the local councils not functioning.
Lanza's opening of the new office at Lake Drive also had its sequel elsewhere. Two parliamentarians now actively engaged in SLPP activities — former Minister Namal Rajapaksa and Nipuna Ranawaka, a colleague and relative — met former President Gotabaya Rajapaksa. They were prompted by reports last week that the former President's private secretary, Sugeeswara Bandara, was a key player in Nimal Lanza's political grouping. They sought the ex-President's help to persuade Bandara not to involve himself with Lanza's political group. It has now come to light that the private secretary proposes to contest the Colombo District on the ticket from Lanza's grouping. The new group has decided to have its inaugural rally on January 19, but a venue is yet to be decided upon.
Priority over economic matters, particularly coping with rising unexpected issues, is the main reason that has delayed the prospects of a presidential poll this year. A parliamentary election is to follow thereafter. There is, however, uncertainty over the conduct of the long-delayed Provincial Council elections. A query to President Wickremesinghe at Wednesday's conference of political parties represented in Parliament, about Provincial Council elections was deftly dismissed by him. He noted that the subject of the conference was to discuss proposals to end ethnic conflict.
Implementation of 13A
Even Indian Prime Minister Narendra Modi had raised issue over the same subject. This was when the Sri Lankan and Indian leaders discussed Sri Lanka's 13th Amendment to the Constitution. President Wickremesinghe was in favour of implementing it without police powers whilst Premier Modi wanted it enforced in its entirety. This by itself has created a controversy among Tamil political parties. The TNA is not happy with the 13A, which it claims needs to be further strengthened. C.V. Vigneswaran, leader of the Thamil Makkal Thesiya Kootani, is in favour of police powers for road traffic affairs and to record complaints. He had earlier cited the Indian example of Pondicherry, a central government territory, where such a practice is in force. That he is willing to compromise has infuriated the other Tamil political parties. There is also uncertainty over elections to local councils.
Dealing with economic issues remains a high priority for President Wickremesinghe. At the same time, he is also spearheading efforts to activate the political machinery to set the stage for presidential elections. The reactivation of his own United National Party (UNP) so it may forge a broader alliance with other like-minded groups is underway. A question of some importance in this regard is how the SLPP's response to these moves would be. More so since a segment of the ruling party has become staunch backers of President Wickremesinghe.
In the early hours of last morning (past midnight), President Wickremesinghe held talks with French President Emmanuel Macron. The French leader was returning to his home country after visits to Vanuatu and Papua New Guinea when his special flight made a stopover at the Bandaranaike International Airport. The talks were held at the VIP lounge. Highlights of the talks that lasted 75 minutes were included in a Presidential Media statement. It said:
"President Wickremesinghe expressed admiration for France's significant role in global affairs, particularly in areas such as climate mitigation, global debt restructuring, and matters related to the Indo-Pacific region.
"President Macron recalled his recent conversations with President Wickremesinghe in Paris, which took place during the Summit for a New Global Financing Pact. He reaffirmed France's willingness and commitment to supporting Sri Lanka in its economic recovery. As the fourth-largest creditor to Sri Lanka, France pledged its assistance in the debt restructuring process, aiming for a positive outcome for the country. In a Twitter post following the discussions, President Macron stated, "Sri Lanka and France are two nations in the Indian Ocean sharing the same goal: an open, inclusive and prosper indo-pacific. In Colombo we confirmed it: strong as in our 75 years of diplomatic relations, we
would open a new era to our partnership."
"The discussions between the two leaders focused on strengthening cooperation in various sectors, including politics, economics, tourism, climate change, sustainable development, and maritime activities. As part of the commemoration of the 75th anniversary of diplomatic relations between the two nations, several specific areas for further collaboration were identified. These areas of cooperation included the establishment of a school for maritime safety and security, the opening of a permanent office for the French Agency for Development (AFD) in Sri Lanka, the initiation of high-level diplomatic dialogues, cooperation in the education sector, and the enhancement of efforts to combat human trafficking in the maritime safety and security sector.
"Additionally, both leaders exchanged views on topics of regional and multilateral interest in the current global context. President Macron expressed keen interest in collaborating with Sri Lanka during its upcoming chairmanship of the Indian Ocean Rim Association (IORA), of which France is a member. In turn, President Wickremesinghe showed interest in the Indian Ocean Commission, where France actively participates."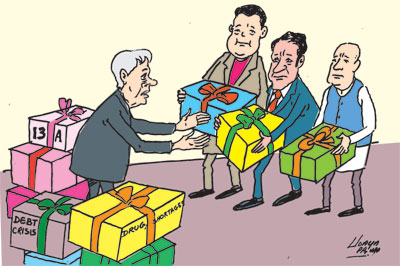 IFC as transaction advisor
In another move, the government has selected the International Finance Corporation as "Transaction Advisors" for the re-structuring of three state ventures. They are SriLankan Airlines Limited, Sri Lanka Telecom PLC, and Lanka Hospitals Corporation Plc. This is part of eight state-owned enterprises that are being restructured. Originally the task was to be assigned to Lazard Freres SAS. However, they sought a large fee — two million US dollars in addition to expenses capped at US$ 50,000. The government felt that the sum was excessive for the work to be performed. Lazard Freres is a financial advisory and asset management firm that is assisting the government regarding negotiations with international sovereign bondholders.
A Cabinet Appointed Negotiation Committee negotiated suitable terms with the International Finance Corporation. There is a four-tier fee structure agreed upon with the IFC regarding SriLankan Airlines — "Milestone Payments" will amount to $ 400,00, success fee 1.25 %, Minimum Fee $ 1,500,000 and Timeline 12 months. In respect of Sri Lanka Telecom PLC "Milestone Payments" will be $ 400,000, success fee 1.35 %, Timeline 12 months. The Lanka Hospitals PLC will also be $ 400,000 "Milestone Payments," 1.35 % success fee and a 12 month timeline. Milestone payments are payable to IFC on meeting pre-determined deliverables and to defray its expenses in meeting such deliverables. A success fee is a percentage of the transaction value. Milestone payments will be deducted from the Success Fee. However, if Milestone Payments are greater than the Success Fee, IFC will not be required to refund the excess.
An earlier move to divest Waters Edge has been put on hold on the advice of the Attorney General. Considering legal implications and the advice of the Attorney General. The Cabinet of Ministers had earlier approved the move. To divest the remaining four SOEs, Sri Lanka lnsurance Corporation Ltd, Litro Gas Lanka Ltd (inclusive of Litro Gas Terminals Ltd), Canwill Holding Pvt Ltd (Hyatt Hotel) and Hotel Developers Lanka Ltd (Hilton Hotel), the Standing Cabinet Appointed Consultancy Procurement Committee (SCACPC) called for Expressions of lnterest (EOl) and issued Requests for Proposals (RFP) via the local and international press and the website of the Ministry of Finance, Economic Stabilization and National Policies.
Although there is no provision for appeal in the government procurement guidelines on the procurement of consultants, the SCACPC decided to allow one week for appeals by unsuccessful bidders. This was to enhance transparency and mitigate unforeseen risks during the divestiture process. Accordingly, unsuccessful bidders were informed that they could, if they so wished to, submit an appeal to the Procurement Appeal Board (PAB). However, the PAB has not accepted appeals with respect to this procurement as there is no provision for such appeals in the consultant procurement process approved by the government.
Regarding SriLankan Airlines (SLA), Ports, Shipping and Aviation Minister Nimal Siripala de Silva has presented a dismal picture to his ministerial colleagues. He says, "The SLA does not have absolute ownership to any of the aircraft it operates" and they are leased out. SLA operates flights to 26 countries and the airline holds landing rights on each destination which has become an invisible asset to SLA.
Minister de Silva adds: "SriLankan Airlines Limited (SLA) was incorporated in 2010 and a majority of the shares of the company have been owned by the Government since 2010. SLA has been a severely loss-making company since its incorporation. However, as a result of cost restructuring and revenue-enhancing strategies adopted by the management, SLA has made a slight operational profit during the first quarter of 2022. SLA operated jointly with Emirates Airlines from 1998 to 2008 and it made a profit of LKR (Lankan Rupees) 22 billion during the said term. SLA presently serves 37 destinations in 23 countries being the only airline which operates direct routes to Australia, France, Germany, Japan, South Korea and United Kingdom from Sri Lanka.
"Although SLA has made profits through Sri Lanka Catering Limited and Ground Handling, SLA as an Airline has incurred severe losses annually. SLA has defaulted to pay its creditors for the services rendered to the SLA to operate. SLA is overburdened with local and foreign loans.
"SLA does not have the financial ability to repay loans and outstanding it has obtained as the operation of the entire airline was severely affected for the past few years. Major drop back in the tourism industry and the downfall of a number of passengers due to the Easter (Sunday) attack, Covid 19 pandemic, Global Economic downfall; severe economic crisis and unstable political and social status in Sri Lank have stroke and impact on Sri Lanka (sic). Restructuring SLA and obtaining capital infusion is critically vital and if such capital infusion does not happen, SLA will certainly collapse and the economy will have to be closed down which will end up creating social distress as 5,313 (in addition to contractual staff 453, Service Providers 604), local and foreign employees who are working for SLA covering the areas of administration, cabin crew, aircraft maintenance, engineering etc. due to loss of employment. It is the responsibility of the government to safeguard the employment opportunities of SLA and its subsidiaries without creating an environment for retrenchment.
"It is observed that the SLA was making profits when it was operating on a joint venture with Emirates Airline with a considerable quantum of shares and management vested with Emirates and SLA was not a burden to the Government of Sri Lanka (GOSL) back then. It is also noted that the International Monetary Fund whilst in discussions and negotiations to assist Sri Lanka to overcome and resolve its economic crisis, has highlighted the importance of restructuring SLA.
"Taking into consideration, the countries in the European region and in Asia (even in India), national carriers owned and managed by the respective government entities in the past are now, either privatized or operating as a Public Private partnership. Whilst ascertaining the inability to repay the loans that SLA has obtained (US dollars 855 million) from local and foreign parties, the significance of the severe financial impact that SLA has stroke (sic) on local creditors by defaulting payments such as State Banks, Ceylon Petroleum Corporation (CPC) which has compelled the Government to allocate taxpayer's money, it is proposed that SLA be urgently restructured. This will lend to operate it as a successful business venture in the near future."
The restructuring of the eight state ventures will be a high priority for the government. Already a State Owned Enterprise Restructuring Unit has been tasked with the responsibility of expediting the move. Perhaps government leaders believe the fruits of restructuring would come as a good omen for the planned elections.