Monday, 19 June 2023 02:53 –      – 132
Crosses 9% stake mark with Rs. 6 b overall investment
Signalling his intent buys more shares on Friday bringing last week's total to 3% stake for Rs. 2 b
Assures his aggression is purely long-term investment oriented
Expresses optimism on turnaround of economy and banking sector
Opines valuation of banks very attractive given future upside
Dismisses serious impact on banks via proposed domestic debt restructuring and says 'either way' will use any downside as an opportunity
---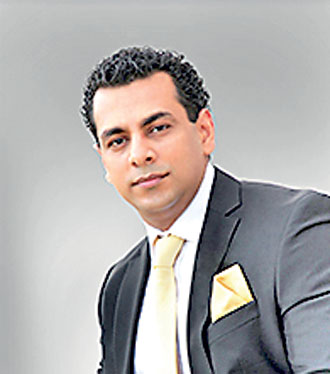 Rayynor Silva
---
Young business leader of electronic media fame Rayynor Silva last week raced himself to be the third largest private shareholder of Sampath Bank picking up 3% additional stake for Rs. 2 billion signalling his optimism on the revival of the economy and upside in the financial services sector.
With successive purchases on Thursday and Friday on top of his previous holding, Rayynor via his firm Phantom Investments Ltd., is estimated to be now owning 107 million Sampath Bank voting shares or 9.4% voting stake now valued at around Rs. 6 billion.
Some analysts speculated Rayynor will remain on the buy side up to reaching the maximum of 10% at the right price. Sampath is the third largest private sector bank.
In early March, Rayynor bought 1.7% stake or 20 million Sampath voting shares for Rs. 1 billion or at Rs. 54.50 per share. By end March 2023, Rayynor held 60 million shares or 5.3% from 2.84% and ranked sixth largest private shareholder as at 31 December 2023. In between December last year and March 2023 he had picked up more shares as well.
On Friday, 15 million shares of Sampath Bank traded for Rs. 841 million. Of that 8.38 million shares were done at Rs. 56 each via 5 crossings. On Thursday a bigger stake of 29.45 million Sampath Bank shares traded for Rs. 1.6 billion. Of that 26.35 million shares were done via crossings.
Overall last week in total 50.3 million Sampath Bank voting shares or 4.4% stake changed hands for Rs. 2.73 billion via 2,666 trades. It closed at Rs.56, up by Rs. 5.80 from the previous week.
The bulk of Sampath selling was by high net worth but low profile investor Dr. T. Senthilverl with SC Securities handling the majority of both the buy and sale side of Sampath shares last week.
Rayynor told the Daily FT that his aggression on Sampath Bank was purely a "long-term investment" strategy given the significant future upside. This is on the basis that the current valuation is highly attractive ahead of the turnaround of the economy. "Everyone is focussed on ensuring Sri Lanka returns to growth trajectory once again," Rayynor said.
"Sampath Bank is one of the best performing banks and I see significant potential," he added.
His additional exposure to Sampath comes at a time when there are concerns on the viability or prospects for the banking sector given the looming domestic debt restructuring or optimisation.
Rayynor however believes the impact will be minimal whilst interest rates are expected to come down further thereby supporting revival of the economy as well as the banking sector.
Being successful and realistic Rayynot however quipped "even if the impact is serious and there is greater downside I will still use it as an opportunity."
As at 31 March 2023, he was the fifth largest shareholder with 5.3% voting stake or 60.5 million shares. With 9.4% stake as of Friday, Rayynor/Phantom Investment rose to being the third largest private shareholder of Sampath Bank surpassing Indra Silva who held 8.2% stake. The top two shareholders of Sampath are business leader turned Parliamentarian Dhammika Perera-controlled Vallibel One PLC (15%) and industrialist and exporter Prabhash Subasinghe-controlled Ayenka Holdings Ltd., (9.97%). Employees Provident Fund holds a 9.97% stake in Sampath as well. Dr. Senthilverl as at 31 March 2023, held 50 million shares or 4.5% voting stake and estimated to be still holding around 29 million shares.
Sampath Bank registered a profit before tax (PBT) of Rs 4.5 billion and a profit after tax (PAT) of Rs 2.6 billion for the three months ended 31 March 2023, indicating a decline of 30.5% and 44.3% respectively from a year ago. This decline was mainly attributed to the exchange losses
recorded during the quarter as a result of the appreciation of the rupee. All other income lines recorded performance well above the previous period.