Wednesday, 3 May 2023 00:25 –      – 22
---
SJB national organiser Tissa Attanayake says party has not changed its stance and is not prepared to accept President's proposal
Claims proposal is a desperate move by Govt. to save itself from collapse 
Expresses confidence SJB can form its own Govt. with people's mandate 
Refutes rumours that there is a split within SJB owing to comments by MP Vadivel Suresh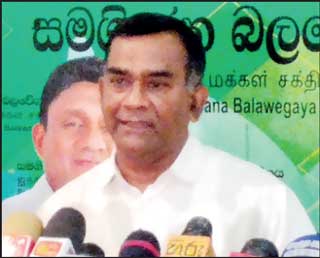 SJB MP Tissa Attanayake
The Samagi Jana Balawegaya (SJB) yesterday said it will not agree to President Ranil Wickremesinghe's proposal to form a national government.
Addressing the media yesterday SJB's national organiser MP Tissa Attanayake reaffirmed there has been no change in the party's stance and it remains a definite no.
"We have been clear about our stance. We are not prepared to accept the so-called national government proposal being presented by President Ranil Wickremesinghe. Just because a government attaches the label of the national government to it, this does not resolve the issues before the country," he said.
The MP called the move a mere attempt to put into action a political agenda, rather than a proposal intended to benefit the country.
"Who are we to govern with as a national government? We will have to rule with the group that is being accused of bankrupting and destroying the country. If anyone is proposing that we form a national government with those who were asked by the people to go home, those who are making such a proposition must have their heads examined," the MP said. Attanayake said the party will not agree to the move.
Calling it a fairy-tale concocted by the President, Attanayake said the national government proposal is something entirely different in reality. The MP said this is merely a tactic to save the government from collapsing and as a political movement able to win the people's mandate, it will seek to form its own Government. "The SJB is not prepared to safeguard a President and a Government that has been rejected by the people," he added.
Attanayake also denied rumours there was a rift within the party. Asked by media personnel about the recent comments made by SJB MP Vadivel Suresh which indicated a possible rift within the party, Attanayake said disagreements are commonplace within political parties. "They are not reasons that could lead to a rift or split within the party," he said. However, the MP noted that certain individuals make comments to gain popularity among the people while others express their thoughts in public. "These are common but I believe there must be discipline within the party. These can be discussed internally. This is not a crisis," he noted.