criticize DM while others confirm talks with RW

---
Some criticize DM while others confirm talks with Ranil Wickremesinghe
Daily Mirror learns that Field Marshal Sarath Fonseka is targeting the leadership of the SJB due to differences with Premadasa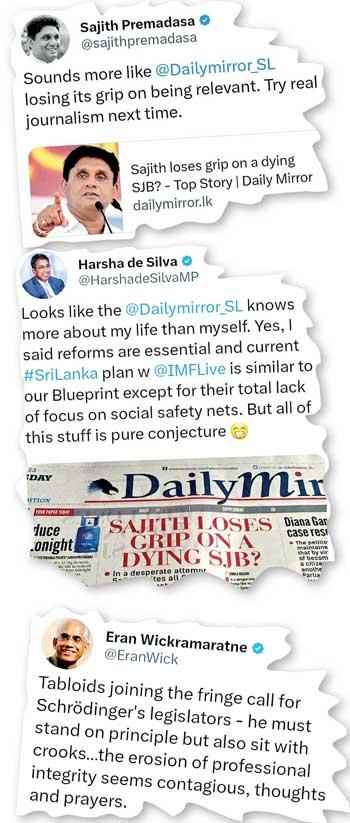 The opposition Samagi Jana Balawegaya is in a quandary following the Daily Mirror article tilted "Sajith loses grip on a dying SJB?" which was published on April 4, 2023 in its newspaper and online platform. While MPs such as Harsha De Silva, Eran Wickremaratne and even Opposition Leader Sajith Premadasa himself were quick to take to social media, criticizing the Daily Mirror, there were many MPs within the party who agreed on its contents and wanted an actual change following the publication of the article.    
Yesterday, senior MP Rajitha Senaratne at a media briefing said several SJB MPs were willing to support President Ranil Wickremesinghe and they will do so as a group.
Senaratne said MPs such as Harsha de Silva were willing to support President Wickremesinghe no matter what anyone says and further said that many MPs want to work with the President but were a bit reluctant to contest an election with him.
However, prior to Senaratne meeting the press, SJB MP S. Marikkar in a media briefing, when questioned if SJB MPs were going to cross over, said that it was only the social media and "President Ranil Wickremesinghe's family owned media" that was publishing such news. Marikkar said that such allegations were only planted in the media owned by President Ranil Wickremesinghe's family but other than criticizing the Daily Mirror, Marikkar had nothing further to say on allegations that several SJB MPs were in discussions presently with the President.
The Daily Mirror learns that hours before Sajith Premadasa hosted the SJB MPs to dinner on April 3 at the Monarch Imperial, he held a committee meeting with the SJB Parliamentarians during which he said that he had heard that a group of SJB MPs including Harsha De Silva was in talks with the President, a senior SJB MP said. At the meeting he requested his MPs to stay together in the SJB.
Senior SJB MPs said that Premadasa maintained a very friendly attitude with all the parliamentarians who attended . Already Patali Champika Ranawaka has announced that he will form a new political party next month while Daily Mirror learns that Field Marshal Sarath Fonseka is targeting the leadership of the SJB. (JAMILA HUSAIN)
---