Friday, 5 May 2023 00:00 –      – 75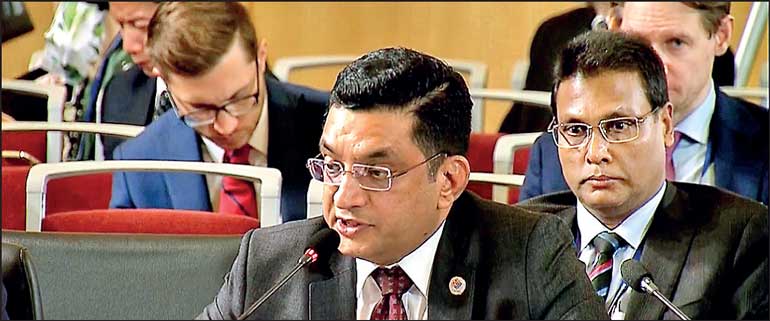 Foreign Minister Ali Sabry addresses the Board of Governors Business Session of the 56th Asian Development Bank (ADB) Annual Meeting in Incheon, Republic of Korea yesterday
---
At Board of Governors Business Session at 56th ADB Annual Meeting in Incheon, Foreign Minister Ali Sabry declares SL moving forward with a glimmer of hope and confident of economic improvement next year
Outlines on recent economic developments 
Points to bridge financing that may arise in recovery process
Calls for continued support from multilateral and bilateral partners
Prioritises modernisation of agriculture, fisheries, logistics, tourism sectors
By Charumini de Silva in Republic of Korea
Foreign Minister Ali Sabry yesterday expressed confidence that Sri Lanka will be able to improve its fiscal performance with much-needed structural and economic reforms.
Speaking at the Board of Governors Business Session of the 56th Asian Development Bank (ADB) Annual Meeting in Incheon, Republic of Korea yesterday, the Minister said Sri Lanka is looking forward with a glimmer of hope after navigating its way out of the abyss of extreme complications faced last year. "Sri Lankans have eased to a certain level following the strenuous actions that have adopted to control the economic downfall during the past 10-12 months," said Sabry though stressing that Sri Lanka cannot be satisfied with the little progress made so far in sustaining these developments is a demanding task in front of the economy.
"We are starting a new journey to build a new economy suitable for the modern world, rectifying the past mistakes through painful reforms. We have laid the basic foundation for transforming the previous shape of the economy and launched a comprehensive economic stabilisation and recovery reform program to address the macroeconomic challenges," he said.
Leading the Lankan delegation to the annual meeting, Foreign Minister Sabry also extended a special appreciation to the ADB and its President Masatsugu Asakawa for the emergency assistance provided by the bank to mitigate the economic crisis in the last year and the continued support being extended for the economic stabilisation process.
"We are looking forward to further strengthening the relationship with ADB," said Sabry at the four-day Annual Meeting attended by over 4,000 delegates.
Outlining that Sri Lanka entered into a four-year Extended Fund Facility (EFF) with the International Monetary Fund (IMF) in March, he assured Sri Lanka remains committed to a debt resolution consistent with the program parameters.
"With the support of our bilateral creditors who encouraged us to move forward in the debt restructuring process, we are confident that these discussions will lead to positive outcomes," he said.
The Minister also expressed confidence that by moving along the same path, Sri Lanka will be able to improve fiscal performance and stabilise the economy within the next year.
Highlighting the importance of financial support from the multilateral and bilateral partners, he said the country would require bridge financing that may arise in Sri Lanka's recovery process this year and in the coming couple of years, especially the expenditure required for social protection in the medium term.
"We are dedicated to engaging in comprehensive economic and technological collaborations with our regional development partners, creating a strong export-oriented economy in the medium and long term," he added.
Asserting that the Government is committed to creating an enabling environment for the private sector to become the engine of economic growth for the new phase, he outlined modernisation and upgrading traditional sectors such as agriculture, fisheries, logistics, and tourism as priority areas.