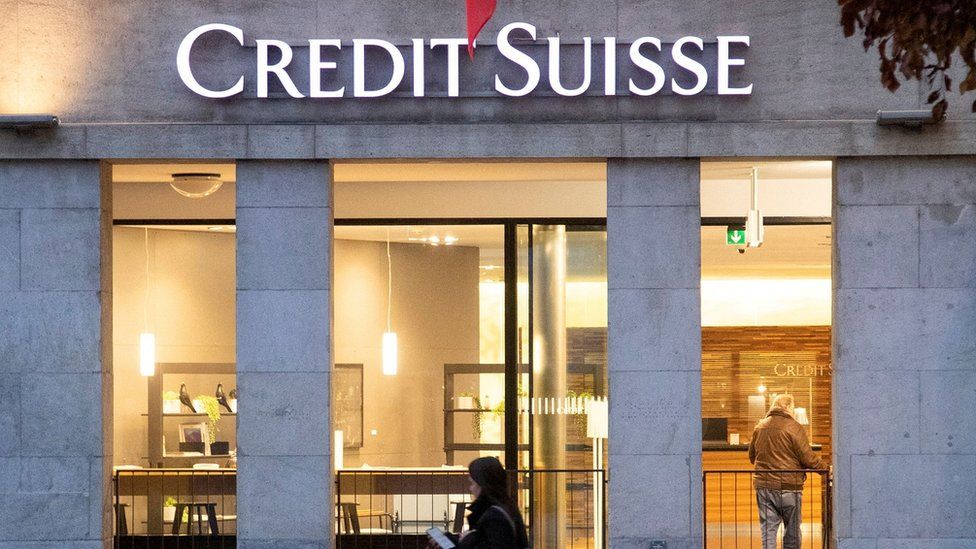 Swiss prosecutors have opened an investigation into the sudden takeover of the country's second-largest bank, Credit Suisse, by its rival, UBS.
The deal was rushed through last month, when fears rose about Credit Suisse's financial position.
Switzerland's Federal Prosecutor said on Sunday that it would investigate if any possible "criminal offences" had been committed.
Credit Suisse declined to comment. UBS has been approached for comment.
The deal for UBS to buy Credit Suisse was backed by the Swiss government, and was put together rapidly after a weekend of emergency talks between the two banks and the country's financial regulators.
At the time, the Swiss National Bank said the deal was the best way to restore the confidence of financial markets and to manage risks to the economy.
The takeover came as markets were being rattled by fears over the health of the global financial system following the failures of two smaller US banks.
The deal, when it was announced, valued Credit Suisse at $3.15bn (£2.6bn), whereas on the Friday before the settlement was reached it had been valued at about $8bn.
However, the deal has angered taxpayers and shareholders of both banks, who were deprived of a vote on the takeover. Some have also argued it has damaged Switzerland's global reputation as a financial centre.
In statement issued on Sunday, Switzerland's Federal Prosecutor said there were "numerous aspects of events around Credit Suisse" that need to be investigated to identify any possible "criminal offences".
"The Office of the Attorney General wants to proactively fulfil its mandate and responsibility to contribute to a clean Swiss financial centre and has set up a monitoring system so that it can take action immediately on any issues that fall within its area of responsibility," it added.
It added it had made contact with "national and cantonal authorities", and that "investigative orders were also issued".
Separately, Swiss newspaper Tages-Anzeiger reported on Sunday that the newly combined UBS-Credit Suisse bank was set to cut its workforce by 20-30%.
The combined bank will have more than 120,000 staff worldwide. The report said about 11,000 jobs could be cut in Switzerland.