Customs find date-stamps in Puttalam MP Ali Sabri's Passport, and he confirms it in his statement
They also seize receipts from gold shops in Dubai for purchases made by him
Sabri's 'assistant' who smuggled 19 smartphones on the same occasion fined Rs 100.000
Customs ponder whether he is a courier for a wealthy smuggling ring
Sabri leaves for Dubai on Flydubai FZ 570 on Friday night again
By Our Political Editor
Honoured as Very Important Persons (VIPs), most users of the hallowed gateway to the world, the VIP Lounge at Bandaranaike International Airport, are Members of Sri Lanka's Parliament.
Officials dare ask questions when they arrive or depart. An added perk for these   VIPs is the free refreshments they receive at State expense. This is whilst they relax in the well-cushioned sofas for their baggage to be rolled in or out. That is again for cursory approval by Customs.
At least for once, that changed last Tuesday morning. Flydubai, an Emirati government-owned low-cost airline, was to touch down at the Bandaranaike International Airport just past 9 a.m. Ahead of the arrival of flight FZ 547, a Boeing 737, the Revenue Task Force (RTF), a Customs unit (one of three) that functions from Orugodawatte in Colombo received a tip-off. These three units are manned by some expert Customs top investigators who have laid bare several rackets. Functioning under the direct command and control of the Director General of Customs, the RTF monitors all imports and exports. That is to ensure goods imported into the country are cleared on payment of all levies. They are authorised to carry out surprise checks at airports, courier services, warehouses, and other similar places.
Playing a key role in the RTF team was an officer known for his daring actions. In one instance, he sealed the warehouse of a liquor manufacturing company though the owners had very close connections with the minister in charge. In another, he seized a luxury vehicle gifted by a businessman to the son of a powerful politician, who is also in politics. Customs said that the young politician was aware that duty on the vehicle had not been paid and had been using the vehicle freely.
The RTF team was instructed by Director N. Samaratunga and included Nalin Premaratne, Superintendent of Customs, U. Indrajith, Superintendent of Customs, Nalin Premaratne, Senior Deputy Director of Customs and the Operations were handled by Aruna Amerasinghe, Deputy Superintendent of Customs. Others in the team were two Customs officers, two Customs Guards and two Customs Inspectors. The ten-man team that went to work immediately found that Mohamed Fairoon, described as an "assistant" (or helper) to M.A. Raheem Ali Sabri, Member of Parliament for Puttalam District, had flown to Dubai a day ahead of the MP. He was returning to Colombo last Tuesday with Sabri in the same Flydubai airline flight. Plans were carefully mapped out and put into effect.
A high-ranking Customs source said the three RTF teams are more prone to secrecy due to personal security threats. The source confessed that the personnel in the unit were still "absolutely cautious" and "very nervous" when it came to tip-offs that related to politicians. "They did not wish to take a chance. A small error could be the end of their career," he noted and pointed out "that the officer concerned, in this instance, was so cocksure. He took "a very high risk but it paid off," said the senior officer who did not disclose the front runner's name for reasons of personal security."
When the Flydubai flight arrived, Fairoon disembarked and went to the terminal building of the Bandaranaike International Airport. He picked up his baggage and walked through Green Channel – one that is meant for those who had no dutiable goods to declare. He was immediately accosted by a Customs officer who had been specially assigned to the area. He also temporarily seized the two mobile phones Fairoon was using. A check on his baggage revealed he had 19 mobile phones (a well-known brand) in his baggage. He was imposed a fine of Rs 100,000 and the phones were confiscated. Later, the two mobile telephones he was using were returned.
At the same time as this was going on, Sabri arrived at the terminal building of the airport and was received by an official of the Sri Lanka Airport and Aviation Services Ltd. This is a customary exercise. Through the VIP lift in the terminal, the officer escorted Sabri to the VIP Lounge. There, he sat on a sofa in the Crystal room, one of two such rooms in the VIP lounge. He had his hand luggage with him. The official had left to ensure Sabri's baggage was sent to the VIP lounge.
When two pieces of baggage belonging to Sabri arrived at the VIP Lounge, a Customs official said they wanted to examine them. Usually, they are loaded straightaway into a vehicle. He was asked whether there was anything to declare and the reply "I have 40 mobile telephones." He was asked again whether there was anything else. He said there was some gold. It is then that Customs officers began examining his luggage. They found 2600 grammes of gold. It was in a plastic box sealed with an adhesive tape. In another plastic box, Customs said, they found 800 grammes of gold jewellery. It was sealed with insulating tape. Customs officials thereafter discovered 91 mobile telephones.
They escorted Sabri to one of their offices located just next to the VIP Lounge. There, they recorded his first statement. The Customs source said in the statement Sabri admitted to the gold and the telephones being part of his own baggage. However, there was a contradiction. A receipt of ownership from Dubai Customs, held by Fairoon, had declared that the gold belonged to him. This receipt was authority to carry the gold outside Dubai and is a legal requirement in that emirate. This aspect was also recorded in the statement by Customs officers.

When the recording of the statement was over, Sabri was driven to their office in Orugodawatte by the RTF team. Further interrogation of Sabri took place here. Thereafter Sabri was released only when the fine imposed on him was paid up.
Personnel of the Revenue Task Force examined the passport of Sabri. His name is listed there as Raheem Ali Sabri. He held Sri Lanka Passport No: D 5658824.
The senior Customs official disclosed that he was allowed to make a few telephone calls. He had made a call to the Director General of Customs, P.B.S.C. Nonis. He had sought his release on the grounds that he was a parliamentarian. Sabri, the official revealed, telephoned Saman Ekanayake, Secretary to the President. The latter, he disclosed, had given two sets of instructions to them. One, the official said, was to immediately apprise the Speaker of Parliament, Mahinda Yapa Abeywardena, giving details of the incident. The other, he disclosed, was to "take strong deterrent action" against violations of law and procedures. The Customs launched an immediate inquiry.
It was to make some shocking revelations. Parliamentarian Sabri, now identified as a smuggler, has made six different trips from Colombo to Dubai within just seven weeks since March, this year. Here are the details:  Left on (1) March 10, 2023 and returned on March 19, 2023, (2) Left on April 9, 2023 and returned on April 16, 2023, (3) Left on April 26, and returned on May 2 2023,  (4) Left on May 5 2023 and returned on May 7, 2023, (5) Left on May 11 2023 and returned on May 14, 2023, (6) May 5 2023 and returned on May 23, 2023. Besides admitting in his statement to travelling from Colombo and returning on the days listed, Sabri's passport has also been date-stamped as proof of both arrival and departure at the two points.
Also incriminating, the senior Customs official said, were receipts that have been seized from Sabri's possession. "They included receipts for a quantity of gold he had procured from a dealer in Dubai," the official disclosed. That included a part of the quantity seized as well as those procured earlier.
On Friday night, Sabri boarded Flydubai flight FZ 570 to Dubai. This will make it his seventh trip to Dubai since March, this year and comes after he was caught by Customs with contraband. It has now come to light that Sabri is also running a business in Dubai secured in his official position as a parliamentarian.
Customs imposed a penalty of Rs 7.4 million on Sabri. It was promptly paid up. The official said that they were empowered to impose penalties that formed three times the value of contraband they detect. "In this instance," he pointed out, "the fine has been mitigated in terms of Section 160 of the Customs Ordinance. Therefore, he said, "a fine that constituted only ten per cent of the value of the contraband has been imposed. He said this was in conformity with Section 129 of the Customs Ordinance which said:
"129. Every person who shall be concerned in importing or bringing into Sri Lanka any prohibited goods, or any goods the importation of which is restricted, contrary to such prohibition or restriction, and whether the same be unshipped or not, and every person who shall unship or assist, or be otherwise concerned in the unshipping of any goods which are prohibited, or of any goods which are restricted and imported contrary to such restriction, or of any goods liable to duty the duties for which have not been paid or secured, or who shall knowingly harbour, keep, or conceal, or shall knowingly permit, or suffer, or cause, or procure to be harboured, kept, or concealed, any such goods, or any goods which have been illegally removed without payment of duty from any warehouse or place of security in which they may have been deposited, or into whose hands and possession any such goods shall knowingly come, or who shall assist or be concerned in the illegal removal of any goods from any warehouse or Place of security in which they shall have been deposited as aforesaid, or who shall be in any way knowingly concerned in conveying, removing, depositing, concealing, or in any manner dealing with any goods (83, 83 of 1988) (83, 83 of 1988) (83, 83 of 1988) (83, 83 of 1988) (83, 83 of 1988) (83, 83 of 1988) (66, 83 of 1988) Person concerned in importing prohibited or restricted goods, whether unshipped or not, and persons unshipping, harbouring or having custody of such good, to forfeit treble the value or, one hundred thousand rupees (19,Law 35 of 1974) (67, 83 of 1988) liable to duties of customs with intend to defraud the revenue of such duties or any part thereof, or who shall be in any way knowingly concerned in any fraudulent evasion or attempt at evasion of such duties or any part thereof, shall in each and every of the fore-going cases forfeit either treble the value of the goods, or be liable to a penalty of one hundred thousand rupees, at the election of the Director-General."
According to the senior Customs official, this is the second time a large fine has been imposed by Customs. The previous occasion, he said, was when a container load of cigarettes was detected.
According to another government source, pressure on the Customs came because voting on the expulsion of Janaka Ratnayake, Chairman of the Public Utilities Commission of Sri Lanka (PUCSL) was to take place on Wednesday afternoon. They had wanted Raheem Ali Sabri in Parliament, He, however, voted in support of Ratnayake. He claimed, again in sections of the media, that he did so because both the President as well as the Prime Minister had not helped him. Through this totally outlandish statement, Ali Sabri is accusing the country's two leaders, the number one and two, of not helping him to smuggle contraband. This remark by itself is not only audacious but is highly unbecoming of a parliamentarian. If he had thrown mud at his own Muslim community, he has added insult to injury with those puerile remarks. There is nothing to prevent a full inquiry by the Criminal Investigation Department (CID) which could, besides other issues, unravel the brains behind the smuggling ring. Ironically, there remains a question of whether the CID itself is up to the task. They have fumbled the investigation into the case of Dinesh Schafter. By the admission of their own bosses, even the probe into the protests (aragalaya) last year is being re-started. They have confessed to this before the Court of Appeal.
Ali Sabri, now a proven smuggler, was elected MP at the 2020 parliamentary elections under a Muslim National Alliance (MNA). However, he entered politics through the All Ceylon Makkal Katchchi (ACMK) led by Rishad Bathiuddin, a one-time cabinet minister. The latter has disowned any responsibility and declared it was a matter for Parliament to decide.
In his defence, Ali Sabri has told sections of the media that the contraband he smuggled to Sri Lanka did not belong to him. He claimed that he was bringing it on behalf of a friend. That makes his case worse. The contraband did not arrive in Sri Lanka under a friend's name. It was in Ali Sabri's personal luggage. The Customs have clearly recorded this in their own testimony. However, top Customs officials, the Sunday Times learnt, had told government leaders that they suspect he could be a carrier for a rich smuggling ring that had been sending him on regular runs to Dubai. The senior official declared "We have had information about activities by Sabri in the past but acted very cautiously." They had claimed that the intelligence information they have received as well as the pattern of operations has raised several questions in this regard. However, as far as the Customs are concerned, about the Ali Sabri smuggling case, the matter is closed since he has paid the fine imposed on him.
On Thursday, 20 opposition political party members met and decided to call upon Ali Sabri to tender his resignation as a Member of Parliament. "We decided that he should resign forthwith since he has brought disgrace upon all MPs," declared Udaya Gammanpila, leader of the Pivithuru Hela Urumaya. He said Ali Sabri's conduct was most reprehensible, and he could not remain an MP. He revealed that if Sabri did not heed the demand of the parliamentarians, they would move a resolution in Parliament. Parliamentarian Gammanpila, a former minister, said during President J.R. Jayewardene's tenure, when then parliamentarian Anura Daniel was caught smuggling gold into Sri Lanka, he was ordered to resign immediately. This, he did. However, a Parliament official said that an MP cannot be removed through a resolution.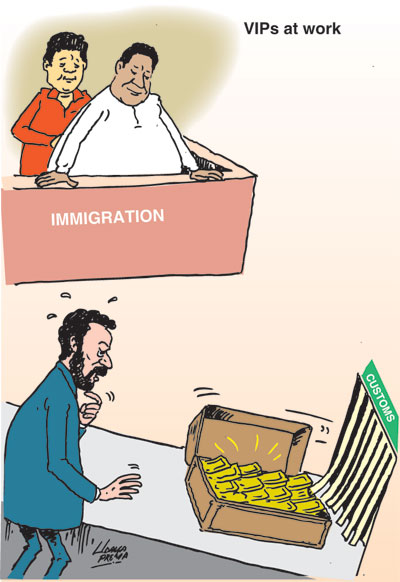 PUCSL chief loses his post
In another development, the government was able to not only consolidate its position but demonstrate that it has a comfortable working majority in Parliament. This came when Parliament on Wednesday adopted a motion by a majority of 46 votes to remove from office Janaka Ratnayake, Chairman of the Public Utilities Commission of Sri Lanka (PUCSL). Power and Energy Minister Kanchana Wijesekera and Ratnayake have been sparring with each other over matters relating to electricity supply and tariffs among other matters. Voting in favour were 123 parliamentarians whilst 77 voted against. A further 24 MPs were not present in the House.
Ratnayake could not be reached by government officials on Thursday by the Finance Ministry so he could be delivered a letter informing him that he has lost his post. Later, the letter was delivered to his house at Third Lane, D.M. Colombage Mawatha, Colombo 5 and had been received by his wife. The letter was from the acting Finance Secretary as the incumbent is away from Sri Lanka. It said:
REMOVAL AS A MEMBER AND THE CHAIRMAN OF THE PUBLIC UTILITIES COMMISSION OF SRI LANKA
In terms of Section 7 (a) (iii) and 7 (a) (b) of the Public Utilities Commission of Sri Lanka Act, No 35 of 2002, Hon. Minister of Finance, Economic Stabilisation and National Policies has removed you from the membership of the Public Utilities Commission of Sri Lanka, with effect from May 24, 2023, as resolved by Parliament.
02. Further in terms of section 8 (3) of the Public Utilities Commission  of Sri Lanka Act, No. 35 of 2002, you shall cease to be the Chairman of the Commission with effect from May 24, 2023.
A.K. Seneviratne,  acting Secretary to the Treasury,
Copies:
1. Hon. Chairman, Constitutional Council
2. Secretary to the President
3. Secretary to the Prime Minister
4. Auditor General
5. Additional Secretary, Ministry of Finance, Economic Stabilisation and  National Policies
6. Board Secretary, Public Utilities Commission of Sri Lanka
President's Japan visit
Also, in focus this week are some issues relating to foreign policy. One is the new ground set by President Ranil Wickremesinghe to initiate a new foreign policy approach during his ongoing visit to Japan. It is in marked contrast to the present syndrome of foreign ministers projecting themselves as the face of Sri Lanka's foreign policy in what is nothing less than an image-building exercise at the expense of the taxpayer. Added to this are the trips they undertake all in the name of foreign policy with nothing achieved and nothing delivered either.
During his keynote speech at the Nikkei Forum in Tokyo, President Wickremesinghe underscored a foreign policy with an emphasis on Asia. With the event titled, the future of Asia, the President wasted little time in making it clear that he foresaw that Asia would soon be placed in the centre of the global economies, making it the future powerhouse region.
President Wickremesinghe outlined what he perceived as a necessity for Asia to adopt a new framework which would ensure peace and stability in the region.  Asia would not be taking sides in the global Big Power rivalry between the U.S. and China, as many Asian states had chosen to side with a third contender, Asia. While the President promoted Asia as the focal point, capable of demanding a seat at the table of the global powerhouses, the President placed Japan at the forefront.
Without taking away from the economic strength of China and India, President Wickremesinghe went one step further and elevated Japan to its level by urging Japan to take a role in unifying the Asian region. Earlier in the day, Singapore's Deputy Prime Minister and Finance Minister, Lawrence Wong, who many have tipped as being the heir apparent, echoed a similar sentiment as the President. In other words, there is a confluence of thought.
Speaking about the Big Power rivalry having arrived in Asia, the Deputy PM said that Asia would not just be a mere bystander but would play a role in shaping the region. A marked commonality between the two leaders' speeches was the request for multilateral cooperation between the Asian states. While both speeches recognised the advanced placement of China, India and Japan on the hierarchy, there was also an urging that the rest of Asia, be it ASEAN or the Indian Ocean states, play a role in deciding the future of the region. This played well into the recent foreign policy stance outlined by Japanese Prime Minister Fumio Kishida. Speaking in New Delhi in March, Prime Minister Kishida presented Japan's "New Plan for a Free and Open Indo-Pacific" (FOIP). One of the key principles of this approach is "multi-layered connectivity" across the Asian region. As President Wickremesinghe looks to reignite Sri Lanka's flagging foreign policy, it will certainly be a boost that his vision is clearly aligning with that of the South-East Asian leaders such as Singapore and of course Japan.
UNHRC chief's oral update
Another event in June that is of international significance is one that has been plaguing Sri Lanka, for the past many years. That is the 53rd session of the United Nations Human Rights Commission (UNHRC) which starts on June 19. However, the pressure this time is less.
The UN High Commissioner for Human Rights. Volker Türk will give an oral update on Sri Lanka in the afternoon on this day under agenda Item 2. On that same afternoon, the High Commissioner is due to present his written report on the Islamic Republic of Iran and oral updates on Nicaragua and Sri Lanka in that order.
The Sunday Times learns that as he is mandated to give a written report in the 54th session in September 2023, under resolution 51/1 of September 2022, this oral update will be brief at best. It is also understood that the oral update will not cover much if at all anything on the 'economic crimes' and progress on pursuing the accountable officials and politicians, his written report in September will cover the same in detail. High Commissioner Turk is likely to rely on input from various other institutional investigations on corruption, particularly from the IMF and World Bank.
When these reports on corruption and economic crimes are made public later this year, it will be interesting to see how certain countries will react. For example, the Foreign Corrupt Practices Act of 1977 in the US and extraterritorial jurisdiction, as this concept is known, is increasingly used by the United States to prosecute both US citizens living and working abroad, as well as foreign nationals who have no connection to the United States.
Resolution 51/1 which was adopted with 20 countries voting in favour, seven against and 20 abstaining, also Requested "the Office of the High Commissioner to enhance its monitoring and reporting on the situation of human rights in Sri Lanka, including on progress in reconciliation and accountability, and on the impact of the economic crisis and corruption on human rights, and to present an oral update to the Human Rights Council at its fifty-third and fifty-fifth sessions, and a written update at its fifty-fourth session and a comprehensive report that includes further options for advancing accountability at its fifty-seventh session, both to be discussed in the context of an interactive dialogue."
It is no coincidence that the High Commissioner met with the Archbishop of Colombo Malcolm Cardinal Ranjith on May 22 in Geneva. The meeting was made public by the High Commissioner in a tweet where he said "Privileged to meet Cardinal Malcolm Ranjith of #SriLanka, a champion of justice for the victims of the Easter Sunday bombings of April 2019. We discussed the need for an independent and transparent investigation into the full circumstances behind the tragic attacks."
Undoubtedly, the disgraceful conduct of parliamentarian Ali Sabri will reverberate in all corners of the country. Going by the facts that have transpired, the imposition of a fine for smuggling alone will not settle the issuie. A greater probe is required since he has grossly abused his role as a Member of Parliament. That will be a lesson for all, particularly his
cronies.