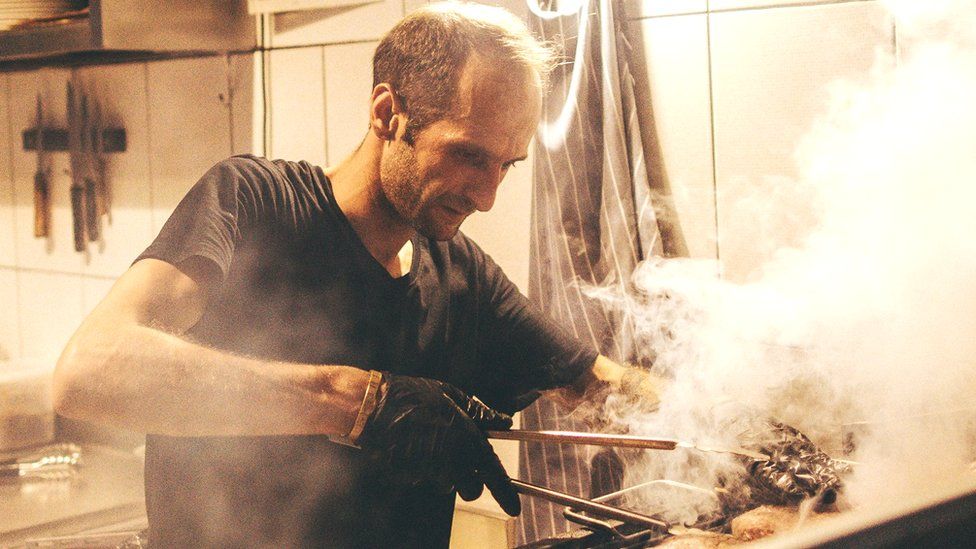 On the windy roof of a Burger King in Malmö, southern Sweden, Maggad Khalidy points to a large metal box attached to a jungle of pipes and wires.
From the outside, it's far from an eye-catching innovation, but Mr Khalidy, who owns the fast food franchise that runs this restaurant, says it has saved the branch the equivalent of around $16,000 (£13,000) a year in heating bills.
The box contains a new form of heat exchange equipment called Lepido, developed by a Malmö start-up called Enjay. It spotted a gap in the market for recovering energy from kitchen fumes, and using it to heat other areas inside restaurant buildings – helping to cut bills for conventional heating, and reduce emissions in the process.
"We were a bit sceptical in the beginning," says Mr Khalidy, whose Burger King franchise in the Malmö suburb Bulltofta was selected for Enjay's initial pilot project in 2016. "But we see the savings, and the return on investment is quite fast as well."
Enjay believes its patented product is the first in the world to offer profitable energy recovery from polluted kitchen exhaust air.
Lepido became commercially available in 2018 and has since been installed in around 250 Burger King franchises across Sweden, Norway and Denmark, as well as school and hotel kitchens across the Nordics and the Benelux region.
Enjay's co-founder Nils Lekeberg says that an average-sized restaurant using Lepido can cut its heating bills by up to 90% a year, and reduce its annual carbon footprint by 30 tonnes.
In the wake of the global energy crisis, Enjay says it is now experiencing a surge in requests from restaurateurs from other parts of Europe, Canada and the US, despite doing little marketing outside the Nordics.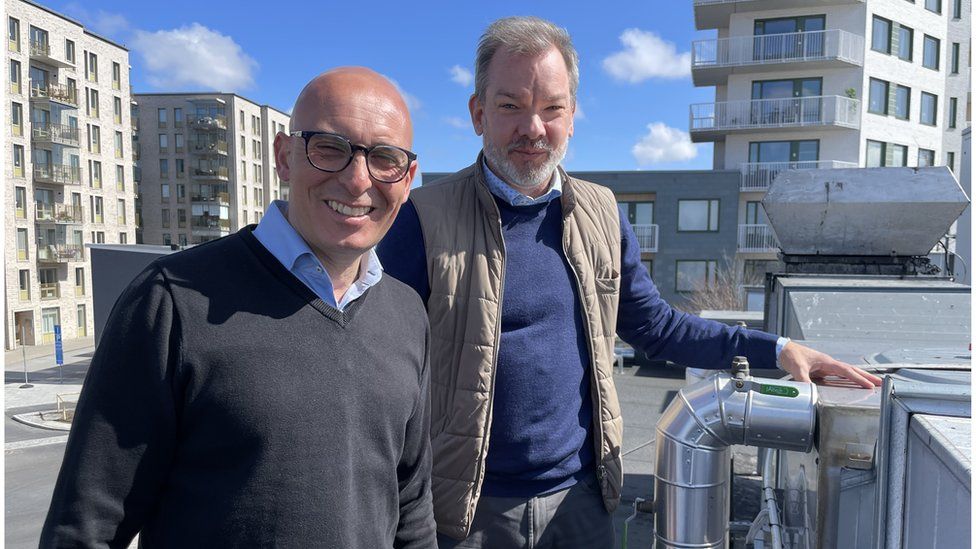 Trials have recently started in several UK locations including a Burger King in Welwyn Garden City, Hertfordshire, and branches of the Caribbean restaurant chain Turtle Bay in Salford Quays near Manchester, and Brindleyplace in Birmingham.
Matt Mansfield, facilities manager for Turtle Bay in the UK, says he was "blown away" by the concept, after seeing the results of Enjay's trials in Sweden. "We were looking at ways in which we could reduce our costs and become more sustainable, and this was at the forefront of what we'd found."
Heat exchange systems that transfer warmth from one part of a building to another are already common in many industries, but recovering energy from industrial kitchens is challenging, explains Arne Speerfork, a professor specialising in thermodynamics at Hamburg University of Technology.
The hot air in kitchens is full of grease and soot particles which "stick on the surface" of traditional heat exchange technologies and make it difficult to recover heat.
As a result, the hot air produced during cooking processes is usually simply vented straight out of restaurant buildings.
Enjay's technology is larger than conventional heat exchangers and is designed so that the grease and soot particles flow past the metal coils inside that transfer energy, instead of sticking to them, says Mr Speerfork.
The hot air can then be pumped out over pipes carrying cold water, which then warms up and can be used to heat other parts of a building.
"It can for sure be effective," says Mr Speerfork, although he suggests the price of the product is likely to be a challenge for smaller independent restaurant owners.
The average cost of buying and installing a Lepido heat exchanger is around $30,000 (£24,000). However, Enjay's Nils Lekeberg argues most businesses should make that money back within a year or two.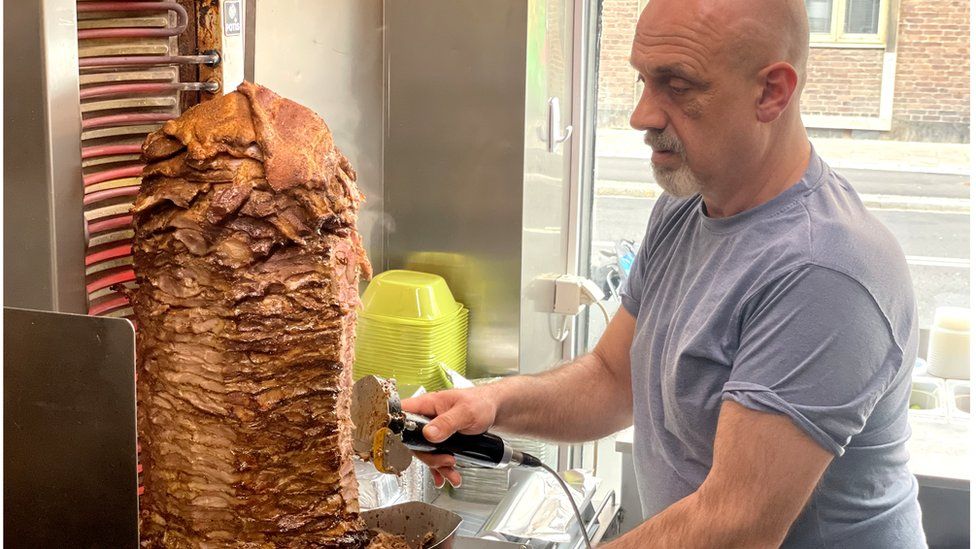 In Malmö city centre, 56-year-old Orestis Georgiadis is heating pork on a rotisserie to make Greek gyros (meat in pita bread, similar to a kebab), at the family restaurant he's been running for 13 years.
He is very interested in installing new energy-saving technologies to help cut costs and limit his restaurant's carbon emissions, but says there's "no way" he could afford technology like Enjay's without a loan from the bank or support from the Swedish state.
As well as heating up his rotisserie, he needs energy to keep his pizza ovens on all day, power an industrial-sized dishwasher, and store food supplies in his eight freezers and fridges. Paying his heating and electricity bills has been a struggle over the past year, especially since food prices in Sweden are also at their highest since the 1950s.
Mr Georgiadis has resorted to turning off the heating in the venue's dining room to save money, which left his restaurant "almost dead" after 8pm during the winter months.
He says things are picking up again due to milder spring temperatures, but he's not convinced he will be able to keep his restaurant open if his outgoings remain so high. "If we will have these prices for one year, then I don't think I will survive it."
Mr Speerfork argues that heat recovery from kitchen fumes could become a more competitive and "solid market" in future if high energy prices persist. "The higher the energy prices become, the more interesting it is to invest even in technologies which are more expensive, for heat recovery," he says.
Currently, Enjay's main competition is a small four-person British company called Dext, based in Barrowford in Lancashire. It has collaborated with Nando's and Sheffield Hallam University to develop a product called a Dirty Air Heat Exchanger, which has a similar function to capture "wasted" warmth from kitchen air vents.


This has now been installed in 14 of the chain's restaurants and Nando's says it is planning to roll it out to more sites around the UK and Ireland.
"I think the more choice the customer has, the better," says Dext's commercial director Neil Bracewell. "It's going to be a huge market, and heat recovery systems will become the norm. I'm amazed they aren't already. It seems such an obvious solution for an industry that produces so much heat."
There is also plenty of scope for expanding the use of these types of technologies into other sectors where heat exchange has traditionally been challenging due to polluted air streams, says Mr Speerfork.
Lepido's heat exchanger has already been installed in an industrial laundry in the Netherlands, and at Europe's largest pancake factory in Laholm in southern Sweden.
"I think you can feel that people are on a high," says Mr Lekeberg.
He says in the first three months of this year Enjay had five times the number of enquiries that it had in the same period in 2022, a clear sign that businesses are trying to plan ahead to improve their energy efficiency as high prices continue.
"We have people calling in actively having found our product or seen something in terms of communication [where] they found the information themselves, rather than us pushing it on people," says Mr Lekeberg. "That's a huge difference for a company."