JP Morgan CEO Jamie Dimon deposed over bank's Jeffrey Epstein ties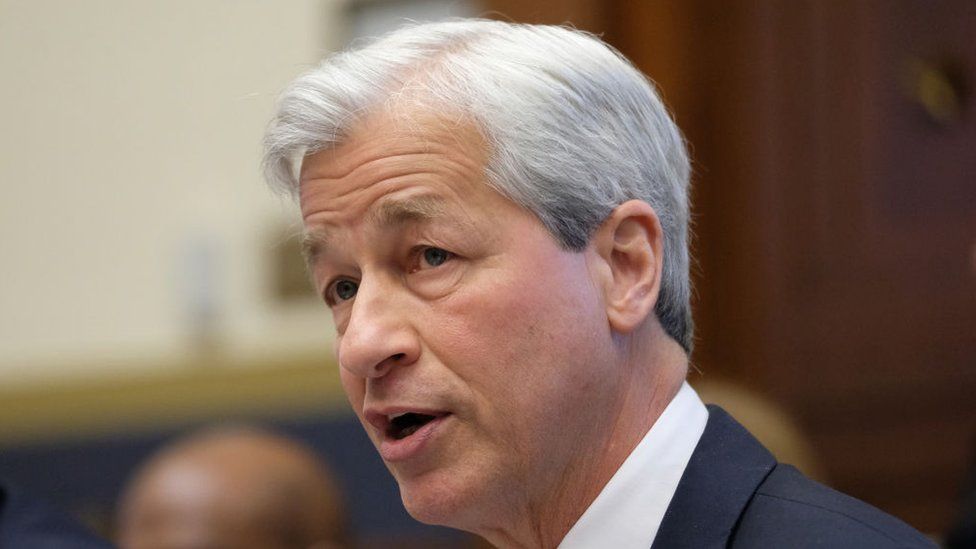 JP Morgan CEO Jamie Dimon has provided a formal statement in two lawsuits over ties between the largest US bank and convicted sex offender Jeffrey Epstein.
The nearly 15-year relationship extended from 1998 to 2013, five years after the financier pleaded guilty to soliciting a minor for prostitution.
Prosecutors allege the bank ignored warning signs about their lucrative client and continued profiting off him.
Both Mr Dimon and his employer have denied any wrongdoing and liability.
JP Morgan said on Friday evening that Mr Dimon stated he had never met or communicated with Epstein and did not recall discussing Epstein's accounts with others at the bank.
Mr Dimon's statement was taken in a private legal meeting known as a deposition at the bank's New York headquarters earlier in the day.
Epstein, who died by suicide in 2019, kept hundreds of millions of dollars in more than 50 accounts at the bank until he was dropped as a client.
Dual complaints filed late last year in federal court claim concerns were raised internally about his legal troubles and the underlying conduct, but JP Morgan kept him on as a customer.
The suits were brought by two groups – one representing Epstein's victims and another on behalf of the government of the US Virgin Islands, where he owned a private island.
Attorneys in the Virgin Islands suit said the bank "knowingly facilitated, sustained and concealed" the frequent cash withdrawals he made to pay the young women he trafficked, and made money off the deals and clients Epstein brought in.
Court documents made public last week state that some four dozen employees flagged suspicions about Epstein's transactions.
In a March deposition, first reported on Friday by the Washington Post, Mary Erdoes, who leads the bank's asset and wealth management division, testified that she was alerted on several occasions to Epstein's conduct but did not think it was her responsibility to remove him as a client.
Other documents, seen by the New York Times, reportedly show Epstein had a high degree of familiarity with, and easy access to, JP Morgan executives.
JP Morgan, which earlier lost a bid to dismiss the pair of suits, has said that any civil liability in the case rests with former executive Jes Staley, an Epstein ally and Mrs Erdoes's supervisor.
Mr Staley lost his bid this week to dismiss the complaint against him but has said his former employer is trying to "deflect blame" and use him as a "public relations shield" for their own failures.
The bank also separately accused Virgin Islands officials this week of looking away from Epstein's crimes because they were accepting bribes and favours from the late sex offender, including tuition payments for the children of local officials.
Court proceedings in the case have been moving rapidly. In addition to questioning Mr Dimon, Virgin Islands attorneys have issued dozens of subpoenas, including such high-profile names as Twitter CEO Elon Musk, and Google co-founders Larry Page and Sergey Brin.
The deposition comes just over a week after Deutsche Bank, who took Epstein on as a client after JP Morgan cut ties with him, settled for $75m (£61m) with Epstein accusers.
To date, the Epstein estate has paid over more than $150m in settlements to more than 100 victims.