President expresses hope to shed Sri Lanka's "bankrupt" tag by Sept.
Friday, 30 June 2023 00:40 –      – 87
---
Puts value of DDO at Rs. 700 b; cautions danger of not proceeding with DDO which ensures safety of depositors and banking sector
Moots necessary legislation to guarantee minimum of 9% return from EPF for members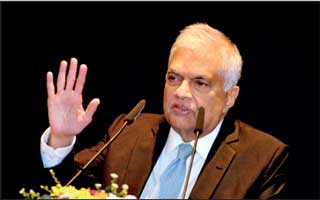 President Ranil Wickremesinghe gestures during his address at the AGM of Sri Lanka Institute of Directors at the Cinnamon Grand last night

– Pic by Upul Abayasekara
President Ranil Wickremesinghe yesterday expressed that Sri Lanka will be able shed the  "bankrupt" tag by September and urged all to back the Government's efforts including the crucial Domestic Debt Optimisation (DDO) which he valued at Rs. 700 billion.
"I hope by September that Sri Lanka will be able to shed its bankruptcy status. Be it Sinhalese, Tamils or Muslims no one likes to be called bankrupt. If individually we don't like it, then collectively why do you want to have this tag on you? So let's get out of it," said Wickremesinghe during his address at the Sri Lanka Institute of Directors (SLID) Annual General Meeting at the Cinnamon Grand where Aroshi Nanayakkara was elected as the new Chairperson succeeding Faizal Salieh.
The President opined Sri Lankans are fortunate to go through a Rs. 700 billion DDO as a small sacrifice versus external debt restructuring worth $ 17 billion.
Commending the teams that worked on DDO, the President said that priority was given to ensure protection of depositors as well as members of the Employees Provident Fund (EPF).
He mooted the MPs must support necessary legislation to guarantee 9% return on EPF balances, a fair demand made by trade unions whom he met yesterday evening. He said in tandem with improvement in the economy, the returns could improve.
However the President cautioned: "If we do this successfully, we can go forward. If we go and change it, you go down. What will happen if we let go of this? We will immediately lose the $700 million that the World Bank has committed. The second IMF review will be a failure and we won›t be able to move forward."
Noting that Sri Lanka was in a delicate situation, the President urged the private sector to promote the DDO since there is nothing to be frightened of but it was for the betterment of the country as well as reduce the public debt to 95% of GDP from an unsustainable debt situation at present.
He also said that the dual strategy of external debt restructuring and DDO was critical and added that debtors cannot lay down conditions but negotiate better with creditors.