Open up vehicle imports with 130% additional tax: CMTA
Friday, 30 June 2023 00:20 –      – 73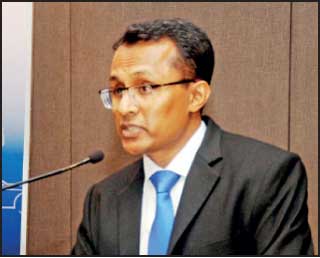 Ceylon Motor Traders Association Chairman

Charaka Perera
The Ceylon Motor Trade Association has proposed to the Government to open up vehicle imports, but with a heightened tax structure with an additional 130%.
During its 109th Annual General Meeting, CMTA President Charaka Perera said the Government could then consider reducing tax by 15% every quarter, so it could come back down to existing levels over a period of two years.
"If you open without such a move then everyone will start importing and the country will lose out.
In this manner, no one will just import vehicles. Some officials are positive about the proposal, but there is nothing firm yet. Three years is too long a period without new imports," Perera told the Daily FT.
He noted there are so many non-essential materials being imported like water bottles, sea food and yoghurt. There is over $ 200 million being spent on import of fish despite Sri Lanka being an island, and this figure is equivalent to the sum with which over 300,000 motorcycles could be imported. Open up vehicle imports, Perera said but in a controlled manner.
During the meeting, Perera was elected uncontested as President of the CMTA for a second consecutive term. Perera said vehicle imports under a controlled fashion under the proposed structure would only cost the country around USD 400 million annually, which is just 2% of the total annual spend currently. Sri Lanka could consider imports of commercial electric vehicles, but the country is not ready for electric car imports, he said.
Chief Guest at the AGM, Ceylon Chamber President, Vish Govindasamy said associations such as the CMTA must support progressive policies that will advance the industry and the people of Sri Lanka.
"We have seen how technology is disrupting the global vehicle industry with new brands pushing the envelope with new brands. You mentioned the roadmap on clean energy for transportation and sustainability, I think that's the right direction to take. I hope your request to open imports is done with careful calibration, so it balances the needs of the motor vehicle industry, the public at large and meets the fiscal balances, the deficits and debt payments of the country."
Govindasamy said the business environment has been difficult for the CMTA members; probably the most difficult time in the history of the organisation. It's probably the one industry that was hit with a ban on importation for three years. The Chamber continues to lobby for the betterment of this decision, he added.